Construction work involves making several structural elements, such as slabs, columns, beams, and footing. Of all, slabs are one of the most crucial elements in a building, as they essentially form the flat surfaces for buildings, like the roof, floors, and ceiling. They come in varying thicknesses and types, depending on the kind of building you are making.
The slab thickness for commercial and residential purposes could differ. If you're looking to have metal building foundations and slabs constructed for your next project, then contact ADMER Construction Group. We provide an all-inclusive range of construction services in South Florida. Get a free quote on your metal building project now.
How to Choose Steel Building Foundation
Having a good foundation is essential while constructing any building. It can support the structural integrity of the construction and avoid significant risks and problems. If you're getting commercial or residential metal buildings constructed, you'd have to choose the foundation to go for. Some of the critical factors you'd have to consider for this are:
Type of soil
The weight of the building
Local frost lines
Weight of the equipment and vehicle to be stored in the structure
Dimensions of the metal buildings
These considerations will help you zero in on the best metal building foundation for your project and ensure that your structure remains secure and solid for decades to come.
Types of Foundations for Steel Buildings
It's essential to know the types of foundations for steel buildings before you consult a professional for the work. The more you know, the better! This could also encourage a healthy discussion with the professional. Here are the basic types of foundations for steel buildings.
Slabs
Pier
Perimeter wall
Concrete Piers are used to support structures with gravel or dirt floors. They're fixed deep into the soil, with different piers supporting different steel columns of the framing. The piers are then tied together below ground. This ensures that there is no shifting.
Perimeter walls or perimeter footing are poured around the structure's exteriors, providing support to the exterior steel framing walls. Some metal buildings use a collaboration of these elements to make a strong foundation. The exact nature of the foundation would depend upon the nature of the application.
You'd have to contact a general contractor to know what's best for your needs and budget. If you're looking for a general contractor for metal building foundation and slabs, South Florida residents should get in touch with ADMER Construction Group. We provide you with the best metal building foundation and concrete foundation in the region at a reasonable rate. Get a free quote on your next metal building project now.
The Ideal Slab for a Standard Building
One of the critical differentiators of different slabs is thickness. Before starting any project, the contractor has to choose the type of slab and the thickness as part of the design process. Other differing factors between slab types include length, span, and strength of the building, though, thickness remains to be the paramount consideration. 
Here are the three main types of slabs that you should know about.
T-shaped
Frost protected
Slab on grade foundation
The type of slab to choose for your next building project depends on several factors. Each of these types has varying advantages and disadvantages. Familiarizing yourself with the ins and outs of these slabs can help you zero in on the best one for your needs. You may need professional help to know which one is right for your requirements.
A 6-inch (150mm) thick concrete slab is primarily used in the industry. If you want to know more about slabs that may be the best for your needs, speak to ADMER Construction Group. We provide general contracting services in South Florida, including metal building foundations.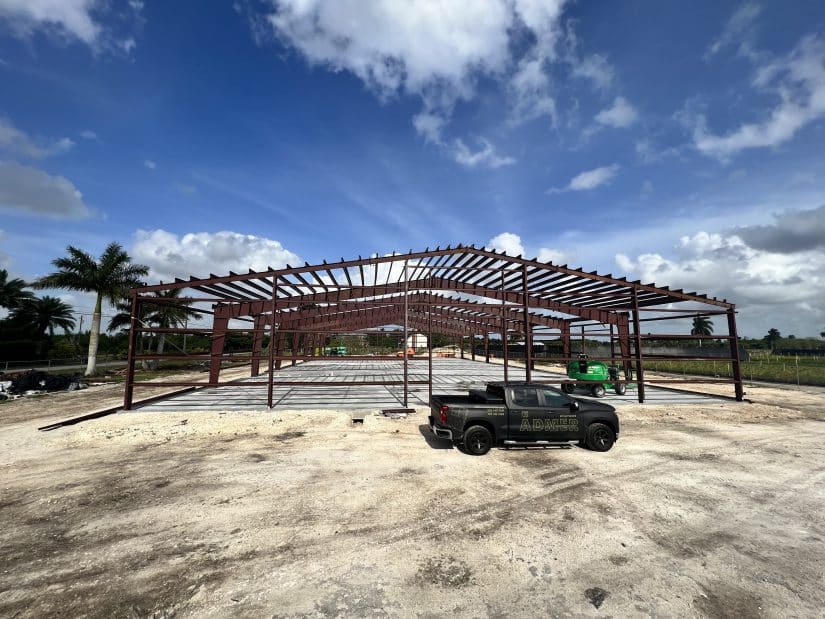 Why Choose ADMER Construction Group
ADMER Construction Group is a general contractor serving the localities of South Florida. From custom homes to home remodeling, buildouts, and home additions, you can trust us for your exterior needs. From conception to execution and overall finishing, we can oversee any project and ensure that our customers get the best general contracting services in the region.
Our mission is to help our customers get their dream property within their budget. We work closely with you through all phases to ensure you get the desired outcome. We are particular about our estimates and our deadlines. If you want to get metal building foundation work done anywhere in South Florida, we can provide you with the best terms. Contact us now to discuss your metal building project.