Pre-engineered metal buildings are among today's most resilient, adaptable, and versatile options for business owners, governmental organizations, and contractors. According to the Metal Building Manufacturers Association, these systems make up more than half of all new low-rise, non-residential building construction projects in the United States.
Metal buildings haven't reached this level of popularity for no reason, and they continue to rise! Using a commercial construction contractor to build a metal building is at least 30% quicker than traditional construction. You can complete your project faster and for less money with a metal building, which is a high win for you.
A general contractor from Admer Construction Group, LLC has all of the necessary leadership experience, abilities, and equipment to oversee an entire metal building project. No matter what type of metal building project you wish to undertake, contact our firm today to speak with a professional. You'll receive a free estimate and assurance we'll get the job done right!
What Are the Different Types of Metal Buildings?
Even though steel buildings can be used in various businesses and come in a wide range of sizes and shapes, there are generally three primary types of steel building structures.
Arch-Style Metal Buildings
Arch-style steel structures are found in agriculture, garages, and workshops, though people can occasionally use them for residential structures as well.
Single-Span Rigid Frame Metal Buildings
Single-span rigid frame structures are believed to be a "continuous frame," generally built with a single beam supported at both ends of the structural system. These types of structures are used mostly for churches and office buildings.
Multi-Span Rigid Frame Metal Buildings
Multi-span rigid frame constructions are generally used in factories and warehouses, which require good stability to hold beams and columns. These frames are also used in retail outlets and strip malls.
Benefits of Metal Buildings
Metal buildings now house all kinds of offices, retail stores, and storage and industrial sites. The steel framing can be custom-engineered by a building manufacturer to fit your construction project and adjust to meet your company's requirements.
Reduced Construction Costs
The first benefit of the metal building industry is reduced construction costs. Constructing a metal building from premade components is much less expensive than building a structure from the ground up. This is because the structure of steel buildings can be assembled like a puzzle.
Minimal Foundation Prepping
The second benefit is that prefabricated steel building kits require minimal foundation prepping. Because of this, their construction schedules are much shorter than those for conventionally built buildings.
Metal Buildings Are Environmentally Friendly
The third benefit is greater environmental friendliness. Metal building kits frequently use recycled steel and have recyclable frames. Because of these features, your metal building produces less waste.
Durability
The last benefit is increased toughness. Metal structures can withstand a lot and hold up just fine. They can endure for decades despite extreme weather conditions such as heavy snowfall, violent storms, or other factors.
You can pick the best metal building type, framing, roofing, and siding choices by working with one of our knowledgeable metal building contractors. Our devoted team can assist you in incorporating these characteristics into the architecture of your industrial steel building, whether you require garage doors, rolling doors, window frames, insulation, skylights, or any other items.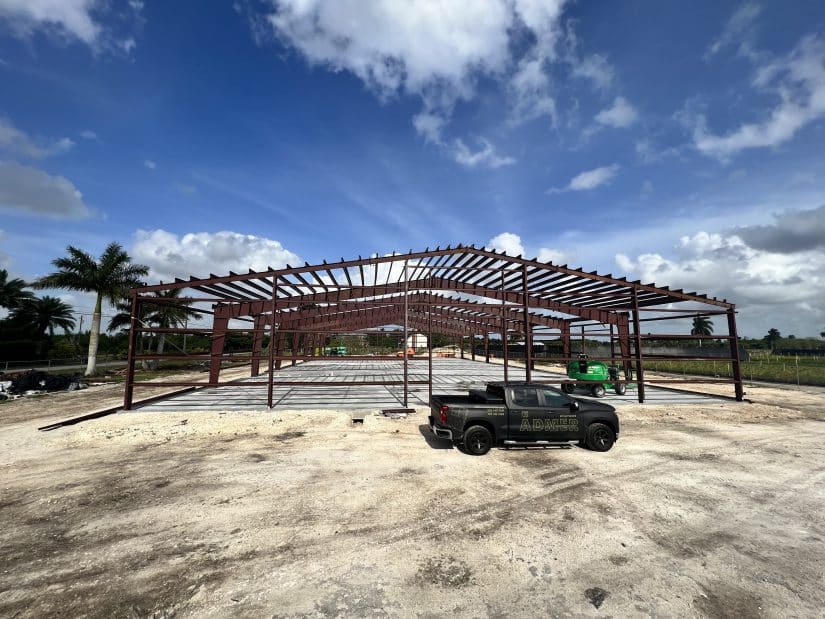 Why Choose Admer Construction Group, LLC?
Contact Admer Construction Group, LLC right away if you have a new construction project for your company. Our professional engineers, project managers, and architects have the knowledge and expertise to design a space where your company can operate efficiently. We are prepared to construct or remodel metal buildings whenever you need us.
Concerning the anticipated timeline for your project, it is critical to be honest and open. Having information will enable you to plan your operations and establish task deadlines. We provide you with a detailed timetable outlining when each major task will be finished, and we can also offer you a free estimate for your project.
How Much Does Metal Building Construction and Remodeling Cost?
Constructing or remodeling industrial or commercial metal buildings typically costs between $10 and $25 per square foot. However, construction services can vary from $6 to $120 per square foot, based on the cost of steel at the time, the size and design of your building, the options you have, and the add-ons you choose. The final cost of your commercial metal building depends on several factors, including location, local weather, building complexity, and construction costs.
There are two different types of construction costs. First, there are your soft costs, also called indirect costs, which are expenses that you might or might not discover after your project is finished. This includes costs for everything from the site and building permits to the cost of traffic studies, 3D renderings of your design, and legal fees.
Hard costs, also referred to as direct costs, are the expenses you will know before your project is finished. The price of steel, labor, machinery, and the value of your property will all be included in the physical component of the construction. Contact the Admer Construction Group to receive a free estimate on your commercial project today!