How Long Does It Take to Renovate a Bathroom?
By Andrys Garcia on July 10, 2023
As a homeowner, you are likely aware of the benefits of renovating your home in any way. When it comes to bathrooms, you may be looking to expand its current footprint, wishing to make it more energy efficient, improve its look and functionality, improve safety, and increase the value of your home, all in a single project. And this may come true because it is well known that home buyers consider new bathrooms and kitchens one of the most important items in their search for their ideal home.
When you are ready to bring beauty and comfort to your home by renovating your bathroom, your contractor from Admer Construction Group, South Florida's general contractor, is the most important ally in turning your bathroom from vision to reality. Call us today and let us hear about your project. We may surprise you with a few ideas of our own to make your bathroom renovation even more outstanding.
Planning Your Bathroom Remodel
A successful bathroom renovation or remodel starts with a plan. By understanding the steps involved in the remodeling project, you can adjust your expectations regarding the time frame and know what will happen during each construction phase.
In the pre-construction phase for a successful bathroom remodel, it is important to gather ideas and inspiration for the way you want the bathroom to look once the construction work has been completed. You may start by putting together a file with your favorite color schemes and ideas on finishes and fixtures. Nowadays, you can get plenty of inspiration online from a wide variety of sources.
It is also important to decide whether the new bathroom will have the same footprint as it has now or if your house allows for the possibility of an expansion. Be clear on whether you just want a minor facelift or you are prepared for a complete gut job that means starting from scratch. In this case, be ready to deal with electrical work, new flooring installation, finish drywall, tiling preparation and tile work, and installation of light fixtures and bathroom vanities.
You should know that both possibilities may bring beautiful results, and it is essential to set a realistic budget to be reassured that this project will be carried out within your means.
How Admer Construction Group Can Help With Your Bathroom Remodel Project
Regarding residential construction and remodeling, Admer Construction Group is there to guide you every step of the way. Whether you are thinking of a long and complicated project or one that will just take a few days to complete, we have the experience and knowledge to ensure that you will have a project done to your satisfaction.
We know that one issue that may be on your mind is how long could it take to renovate a bathroom? This is a question that may be more easily answered once we have a complete picture of your bathroom renovation. Yet, in general, you can expect it to take between 6 weeks and 3 months from the moment we first step into your old bathroom to the post-construction phase.
You should keep in mind that the construction process involves some or all of the following and more:
Pre-construction meetings
Establishing a project schedule
Obtaining permits
Removing the old vanity
Working with existing water lines
Determining the electrical layout and doing an electrical rough-in
Plumbing and Electrical work – this may mean relocating plumbing and laying electrical lines before the bathroom floor goes in
Putting in new gas lines when needed
Installing new drywall
Painting or hanging wallpaper
Obtaining city permits for your Miami bathroom remodeling is one of the most important steps after the initial contract has been signed. In order to obtain permits, the city may require plans for the entire timetable, may conduct an insulation inspection, may voice objections when there are safety concerns, may inspect the underlying structure to ensure it is in good shape, and other requirements that may delay the project seven days or longer. The building inspector will likely schedule site visits and review the construction schedule before permits are issued, and the work will not be considered complete until they perform a final inspection.
In order to save time when you remodel a bathroom and obtain the necessary permits, your contractors depend on you having a clear understanding of what you want and what the final project will look like. It is crucial to avoid unnecessary changes either in the construction or the renovation.
What to Expect When Remodeling a Bathroom
When remodeling a bathroom, you can expect to encounter some challenges and unexpected issues along the way. Some of the things you can expect to experience when remodeling a bathroom are:
Making Alternative Plans
If your home has a single bathroom, you should make alternative plans for living arrangements for the project's duration since your bathroom will be out of commission. The project can take anywhere from a few days to several weeks, depending on the complexity and extent of the work. You may also need to shut off the water and electricity to other bathrooms in the house. You should plan ahead and arrange for alternative facilities or accommodations during your remodel.
Unknown Issues
You may encounter unexpected problems or delays during the demolition or installation process, such as hidden water damage, mold, faulty wiring, uneven floors or walls, or a shortage of materials. You may need to be prepared to adjust your budget and timeline accordingly and communicate with your contractors to resolve any issues as soon as possible.
Unexpected Changes to the Original Design
You may need to make some compromises or changes to your original design or plan due to space limitations, availability of materials, cost considerations, or personal preferences. Be flexible and open-minded, and prioritize your needs and wants. You should also consult with your contractor for any suggestions or alternatives that may suit your project better.
Dust and Noise
You will have to deal with dust, noise, and disruption throughout the bathroom remodels project, which can affect your comfort and daily routine. From pre-construction and through the entire construction phase, make sure to protect the rest of your home from dust and debris by sealing off the work area and covering any furniture or belongings. You should also provide a safe and dry place for storing any supplies during the project. Your general contractor will see to the disposal of any renovation waste properly and responsibly, but you may have to live with some dust.
Final Cleanup
Post construction, clean up and sanitize your new bathroom once the remodeling project is completed, as there may be dust, dirt, or germs left behind on surfaces and fixtures. Use appropriate cleaning products and methods to remove any stains, marks, or residues. Ventilate the area well to prevent any moisture or mold problems.
Get Ready to Enjoy!
You can now forget about your old bathroom or your anxieties over how long it takes to finish remodeling and start enjoying your bathroom remodel once everything is ready for use. You should relax and appreciate your newly renovated bathroom that reflects your style and personality. You should also maintain your bathroom renovation by keeping it clean and dry, repairing any damages or leaks promptly, and updating any accessories or decor as needed.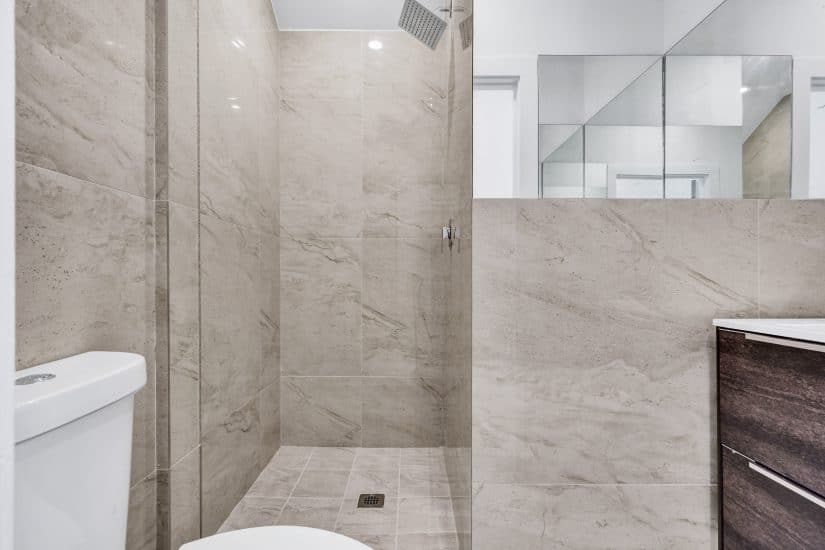 What Time Factors to Consider When Remodeling a Bathroom
Before the project gets off the ground, you may have two important questions in mind:
How Long Does It Take to Renovate a Bathroom?
The duration of your project will depend on the scope and complexity of the work involved, the availability and delivery of materials, the skills and experience of the contractors, and any unexpected problems or delays that may arise. However, you should know that a typical bathroom remodel, from pre-construction to the final inspection, can take anywhere from a couple of weeks to several months to complete. Plan ahead and create a realistic schedule that accounts for all the steps and tasks involved in the project.
How Much Will It Cost to Remodel Your Bathroom?
The cost of your project will depend on the quality and quantity of materials you choose, the labor and installation fees, the permits and approvals required, and any changes or additions you make along the way. A remodel can range from a few hundred to several thousand dollars, depending on the extent and level of the work. You should establish a reasonable budget that covers all the expenses and contingencies of your project.
Call Admer Construction Group Today to Get Started
At Admer Construction Group, we pride ourselves on being by our clients from the pre-construction phase to the first inspection to the day you walk into the beautiful new space and are amazed by the transformation. Call us to discuss your renovation project; we have extensive experience and a plethora of ideas to complement your own and create something truly unique. Set up an appointment today, and we will gladly stop by your home to get started.