Top Bathroom Trends for 2023
By Andrys Garcia on July 10, 2023
When considering the design for a new bathroom or a remodel, it is easy to let your imagination fly and visualize countless ways in which this bathroom may turn into reality. After all, nowadays, there is no limit to the possibilities when it comes to bathroom design, including finishes, fixtures, colors, materials, light fixtures, double sinks, and everything an ideal bathroom can have.
As a general contractor at Admer Construction Group, we share our clients' enthusiasm when they realize that the finished project surpasses their expectations and leaves them more than satisfied with the end result. If you are at this stage, it is always a good idea to get some inspiration to add to your personal style. So, read on to discover the varied and unusual trends that are a part of bathroom trends 2023, and when you are ready to get started, give us a call. It will be our pleasure to stop by your home and discuss any bathroom ideas you may have in mind.
Add Drama
No matter how subdued or traditional the rest of your home might be, the Miami bathroom remodeling offers you a great opportunity to do something completely different and add drama. You may go even bolder when it comes to the powder room and have your guests enjoy a unique space whenever they visit your home. Do not be afraid to add a dramatic wallpaper, a one-of-a-kind vanity, or a glamorous mirror that is in itself a work of art and becomes the focal point of these small spaces. Powder rooms can have a natural stone floor and a vanity made from natural materials.
As far as the primary bathroom is concerned, you can go bold with a unique soaking tub that takes center stage, luxurious bathroom fixtures, steam showers, or unexpected wall coverings in geometric shapes that lend a visual interest to the room when you look to incorporate bathroom trends 2023.
Vertical Lines
If you are into the latest bathroom trends 2023 in interior design styles, you should incorporate vertical clean lines into your bathroom's look. This can be accomplished by installing long subway tiles vertically instead of going the traditional horizontal way. You may also find long tiles in natural stone or other natural materials that will provide an added element of interior design. You may also incorporate vertical lines in the cabinetry of your vanity, or you may opt for a long tile design to cover your bathroom floor in a herringbone pattern. Vertical lines add a touch of interest and novelty to a bathroom that may otherwise have nothing special going for it, and it does not have to cost a lot to achieve this 2023 look.
Let Your Tile Make a Statement
If you are not sure how to incorporate an element of interest in your bathroom because you like a neutral color for your walls and a plain vanity, let your imagination run wild with a tile that will make a statement. Going for a bold tile may be all you need to achieve a full bathroom transformation, and is one of the top trends in bathroom design. It is easy to find tiles that have interesting designs even when you do not want to go with a bold color. You may find a square tile that has a design in a single color that will complement the color of your vanity or the color of your walls. You may also experiment with natural wood and heated floors if you are into 2023 bathroom trends.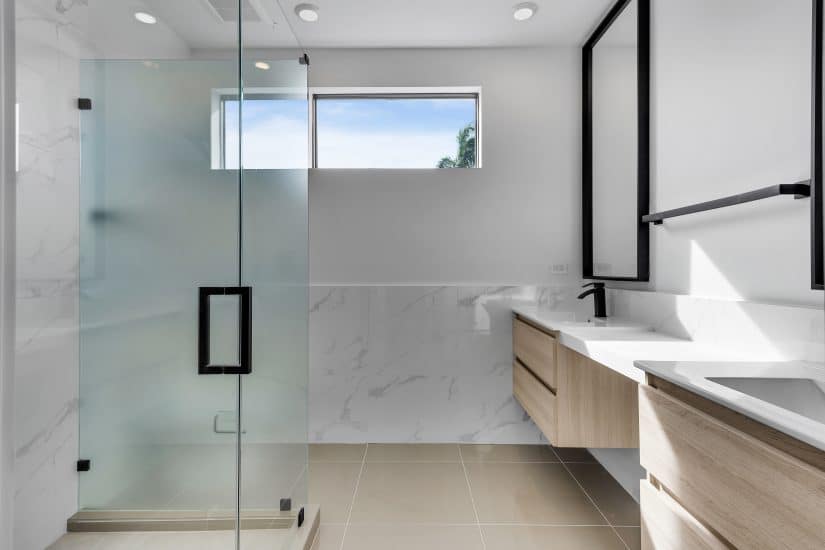 Quality Materials
If there is one thing for sure, when it comes to bathroom trends in 2023, you must take advantage of quality materials that will give you a bathroom space you can enjoy for years to come. You want to design a primary bathroom that is luxurious. When you add a freestanding tub, beautiful stone slabs, or statement marble, the result will be a timeless look for your space.
When it comes to residential construction and remodeling, at Admer Construction Group, we know bathroom trends 2023 and have witnessed how many of our clients have focused on installing quality materials; whether they add a soaker tub or a rain showerhead, they know that this will be an investment into their future and these items will provide them with a special sanctuary in their primary bathroom where they will be able to relax, unwind, and take a moment for themselves.
Whether you are following design trends for master bathrooms or other living spaces, our contractors will make sure you end up with the perfect space. Reach out to us for some great ideas. We can talk about the right color scheme, offer you a variety of new materials for bathrooms, and will follow your style to give you some eye candy when it comes to the classic look of your bathroom.
Spa-Like Bathroom
If COVID-19 taught people anything is the importance of having spaces at home that can be enjoyed, relieving stress, and offering comfort. These trends have extended to bathrooms that more and more homeowners plan on turning into spa-like spaces, areas in which they can leave the stresses of every day out the door and bring in a calming atmosphere to relax and unwind.
Nowadays, homeowners look for a statement bathroom with double sinks, a freestanding tub, special hardware, and a space where they can feel as though they have incorporated the great outdoors into their bathroom designs. To get your new statement bathroom following 2023 bathroom trends, whether you are planning a new build or a bathroom remodel, we are ready to talk to you about your style, what you want to be included in your space, your favorite bathroom colors, and anything else that can elevate bathroom designs into a true art form. We understand spa-like bathroom trends in 2023 and are ready to offer you our expertise and design advice for a timeless look whenever you are ready to get started.
Fabulous Walk-In Showers
Nowadays, it seems as though taking a shower is not just something you do to get clean; it is an experience that can make a huge difference in how you feel the rest of the day. To achieve this feeling, a fabulous walk-in shower must be included in bathroom designs. If you are about to start a bathroom remodel, make sure to include enough space for 2 people in the shower, add a shower seat, and have the pros at Admer Construction Group install multiple showerheads. And if you are concerned about accessibility, now is the time to plan for a zero-entry shower and a sturdy handle along one wall. Bathroom trends 2023 include a fully outfitted bathroom with a walk-in shower that you cannot easily forget. You may have a free-standing tub next to the shower or include it within the wet area of your shower if there is enough room. Freestanding tubs can also add an element of luxury to the style of your fabulous bathroom space.
Removing Oversized Tubs
Depending on the age of your home, you may have a master bathroom in which half the floor space is occupied by an oversized tub that is built in. It may have water jets and seating capacity for more than one person, but these comforts are not enough to offset the outdated look and the valuable real estate that is being wasted. Get on board the current 2023 bathroom trends and take back your bathroom by swapping out this oversized, outdated monstrosity for a beautiful freestanding tub that will let you spoil yourself whenever you need a bit of quiet time. Surround this new addition with white walls and an outstanding tile selection for the floor, and you will be all set. Call us to discuss luxurious bathroom ideas on how to get rid of your oversized tub and what you can install in its place, adding today's trending bathroom colors and style.
Wood Vanities
Even when you long for a white and bright bathroom, you can still add a touch of real wood to your vanity. The wood color will add an organic touch to the bathroom design. As far as 2023 bathroom trends go, you may want to forgo the classic painted vanities, particularly those painted white, and incorporate some style in a vanity made of wood. Cane and wood-pattern inserts are popping up in the latest vanity styles, and the wood color creates a nice contrast if you want to add a white freestanding tub. Pair this up with a dramatic tile, and you are on your way to your ideal bathroom for 2023.
Attention-Worthy Bathroom Accents
You may want your bathroom to look like a spa, which may be this year's most popular trend. However, this does not mean that aesthetics need to be left behind. You can still design a serene and calm environment where you can escape from the daily stresses of life while also adding either a bold pattern or a strong texture to add interest to your space. Incorporate a bold pattern in your bathroom tile or add bold accessories on open shelves. Get inspiration from African-themed patterns, cloth prints, textiles, and hardware for your cabinets, lighting, or mirrors. Our team can guide you through the exploration of colors and patterns. Give us a call to find out how.
Wellness and Sustainability
2023 bathroom trends include a focus on wellness and sustainability, mirroring what homeowners are asking for in many other living areas. Think conservation and environment and look to have energy-efficient lighting installed, use sustainable paints free of lead and other contaminants, add large windows that let you enjoy a feeling of the outdoors, and top everything with an energy-efficient and convenient tankless water heater. If you decide to check labels and product specs, know that you are not alone since this seems to be a trend among homeowners concerned not only with the quality but with the energy rating of what goes into their homes.
As with kitchens and other areas of their homes, when it comes to bathrooms, consumers want a more sustainable and environmentally responsible use of electricity, water, and other resources. There also seems to be a boundless awareness of how certain materials affect the quality that they breathe indoors, particularly if there are people with allergies and other respiratory conditions.
If thinking about these subjects makes you feel overwhelmed, there is no need to worry. At Admer Construction Group, we have plenty of experience helping our clients find the most appropriate materials for their homes. When it comes to a bathroom design that incorporates wellness and sustainability, we can help you reach your goals without sacrificing the look and functionality of your new bathroom.
Let Admer Construction Group Give You the Bathroom of Your Dreams
Bathroom design trends for 2023 include easy-maintenance quality materials and natural colors. Bathrooms are shifting from task-focused spaces to rooms designed for comfort, health, wellness, and relaxation. Personalization in bathroom designs is driving design choices, encouraging homeowners to create comfortable rooms with custom bathing experiences. There is a trend for embedding universal design principles into bathroom spaces as more customers want to age in place. Voluptuous curves are becoming popular in bathroom design, with moldings that soften straight lines. Lighter tones like taupe, cream, and light pinks are replacing the all-white look, and warmer and earthy tones are dominating bathroom trends. Brushed bronze finishes are popular for their contemporary design and warm contrasting tones in a new statement bathroom.
We can incorporate plenty of bathroom design trends, always working with your preferred bathroom colors, or we can work to give you an all-white bathroom. It is always our aim to give you a bathroom that feels like you have more square footage to enjoy the best bathroom of your dreams. Give us a call today, and let us start talking about 2023 bathroom trends and countless other bathroom ideas. We are standing by and ready to get started as soon as you are.